Using carefully handpicked rice,
and water that springs from the local area,
a drop of bliss that contains the skill and spirit of the brewers.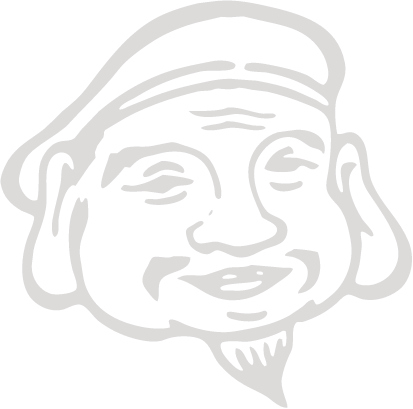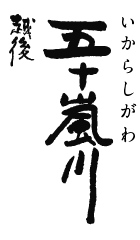 Ikarashi-gawa
Enjoy the smooth sip of Ikarashi-gawa sake made from the super
soft underground water of Ikarashi-river which flows through
the city of Sanjo, located in the center of Niigata Prefecture.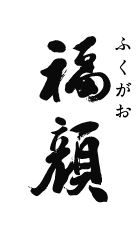 Fukugao
Fukugao is composed of two Chinese characters "fuku (happy)" and "kao (face)."
As the name suggests,
one can not help but smile when experiencing the deliciousness of the Fukugao-brand sake.
Fukugao has been the registered brand name since the establishment of the brewery,
and our motto is to follow traditional methods while taking painstaking care in the
sake-making process.
We continue to devote our efforts in producing sake that will leave a lingering
impression in all who enjoy our brand.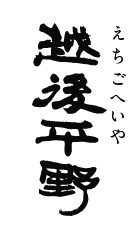 Echigo-heiya
Echigo-heiya is made from Yamada-nishiki, a rice-brand
best suited for brewing sake produced in the Special
A-region of Hyogo prefecture.
The echigo-toji brewerscarefully attend to the well-polished rice throughout
the entire sake-making process. The rich and authentic
rice flavor that could only be captured by junmai-shu
offers the chance to recognize anew the delicious taste of rice.
At the same time, Echigo-heiya is a good complement to
any dish that is served.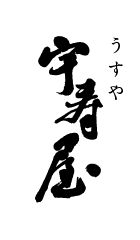 Usuya
Koshitanrei rice, Niigata prefecture's own brand of sakamai
(rice used in making sake) and harvested locally in Sanjo,
is used 100% in the making of Usuya,
together with thesuper soft water of the local river, Ikarashi-gawa.
Usuya is our prized sake, made solely from Sanjo's rice and
water and hand-processed from bags using the drip-pressing method.
TASTING MAP
Select your preferred sake from this flavor matrix.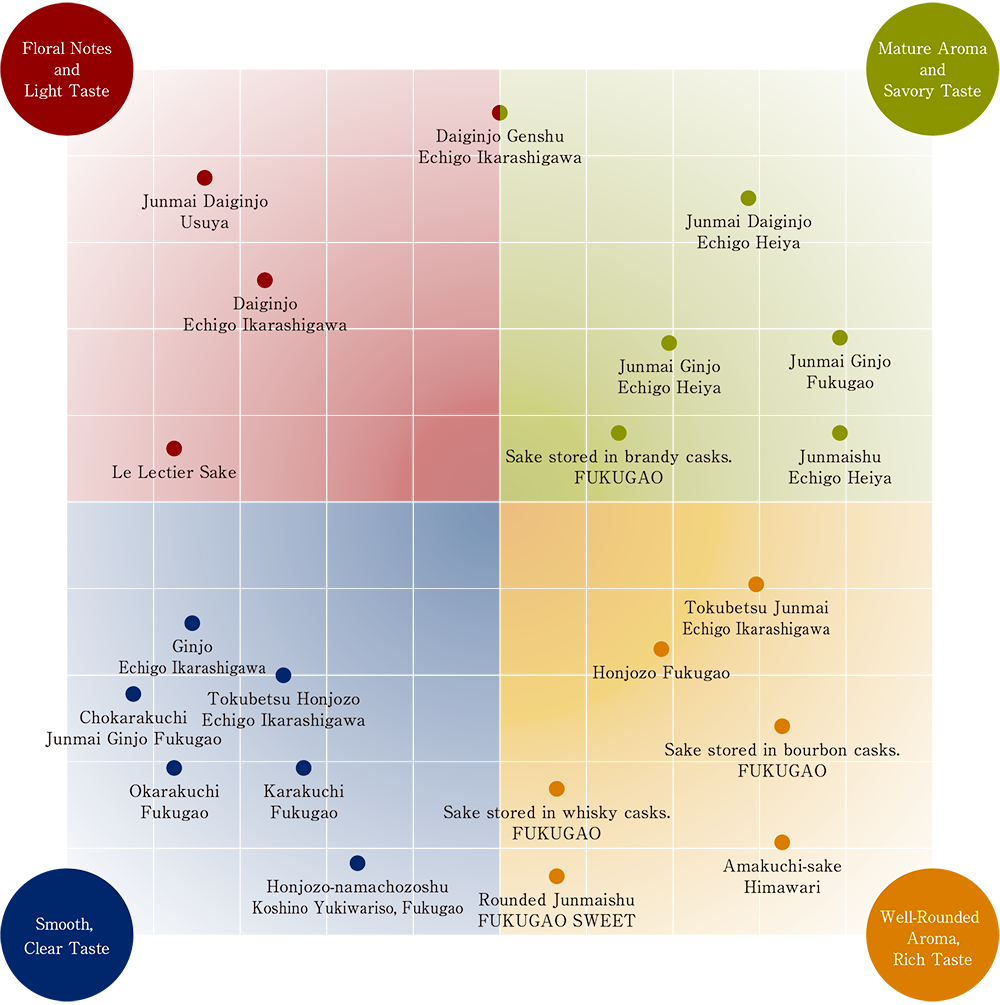 Matching Sake and Cuisine with Our Flavor Matrix
We have correlated our sake brands and matching cuisine according to the flavor matrix.
Daiginjo Echigo Ikarashigawa
Junmai Daiginjo Usuya
Le Lectier Sake
White fish sashimi, Lightly boiled dishes, salt-grilled fish, Olives, Carpaccio, Wild vegetable tempura, Japanese ginger dressed with bonito flake, Baked leeks, Kneaded seaweed
Junmai Daiginjo Echigo Heiya
Daiginjo Genshu Echigo Ikarashigawa
Junmai Ginjo Echigo Heiya
Junmai Koshu Fukugao
Junmaishu Echigo Heiya
Meat and Western dishes, Chinese cuisine, cheese, Broiled eel, fois gras, beef stew, baked potato with butter
Ginjo Echigo Ikarashigawa
Chokarakuchi Junmai Ginjo Fukugao
Tokubetsu Honjozo Echigo Ikarashigawa
Okarakuchi Fukugao
Karakuchi Fukugao
Honjozo-namachozoshu Koshino Yukiwariso, Fukugao
Sashimi, warmed tofu, stew pots, Grilled fish and chicken, milt with sour soy, sweet & sour white fish, sweet-soy burdock root, chrysanthemum greens dressed with wild sesame, taro stem vinaigrette, stewed osmund country style, daikon and carrot vinaigrette, seaweed soba noodles
Tokubetsu Junmai Echigo Ikarashigawa
Rounded Junmaishu FUKUGAO SWEET
Honjozo Fukugao
Amakuchi-sake Himawari
Stewed dishes, pot stickers, white-sauce stew,fried chicken, tonkatsu (breaded & fried pork cutlet), deep-fried tofu with miso-meat sauce, simmered-in-sauce flatfish, lightly stewed shishito peppers, stewed daikon radish and bran-cake wheels, noppei soup
Sake stored in whisky casks. FUKUGAO
Sake stored in bourbon casks. FUKUGAO
Sake stored in brandy casks.FUKUGAO
Chocolate, nuts, cheese, smoked salmon, flamed roasted pork, ice cream